Want more sales leads?
* Alan has been producing leads for major companies at trade shows *
* He will deliver Your sales/marketing message *
* He helps you make a lasting impact *
* Power to engage and captivate delegates *
* Your Company benefits with quality leads and orders *
* Make your event dynamic and unforgettable *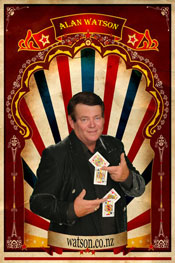 Hire a professional for your next:
* Trade Show
* Product Launchs
* Corporate Functions - Dinner Table Magic
* Conferences
* Exhibiting Events
* Sales Meetings
* Client Presentations

Trade Show Magician Alan Watson will help generate more new leads for your business......
Alan Watson will attract crowds to your trade show stand and he will communicate key messages to the audience to help generate quality leads for your sales team.

His Innovative and captivating performance stops traffic in its tracks making your trade stand both popular and unique!

Alan will even show your sales people how to take advantage of the large audience he attracts and maximise quantity leads for you to follow up and give out brochures.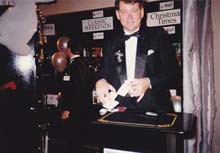 ** Telephone Alan NOW on 0274 95 7070 so you can discuss your requirements and he can tailor a trade show to your particular needs. **