sophisticated award winning close-up magic
* Corporate Functions *
* Conferences *
* Private Parties *
* Conferences *
* Restaurants *

** Telephone Alan NOW on 0274 95 7070 so you can discuss your own requirements so as he can tailor a performance to your particular needs. **
An immensely entertaining performance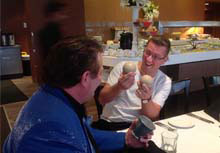 Alan is an international award winning magician, whose close-up magic will have your guests spellbound and entertained between dinner courses.

He has travelled extensively with his magic and has performed at the famous Magic Castle in Hollywood, Los Angeles, California where he has presented his shows more than 100 times.

Alan is currently the resident magician at Wellingtons restaurant, Waipuna Hotel & Conference Centre, Panmure, Auckland where he has been performing every Sunday for the past seven years. His performances are very interactive and filled with comedy and humour that will leave you and your guests wanting more.

Are you looking for an amazing, professional and fun magician for your next event?

Well look no further...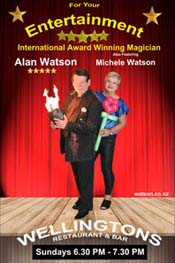 Advantages of Having Alan As A Restaurant Magician:
It gives you an edge over the competition:
It is difficult to determine exactly what makes someone choose one restaurant over another. It just might be that little something extra that tips the scales. The addition of a tableside magician ensures that many people will cast a favorable eye in your direction due to the amount of value they are getting for their discriminating dollar.
Increases Customer Traffic On Slower Days:
Through various forms of advertising, e.g. lobby cards (I provide), the media, word of mouth etc., your guests will learn of the magician performing in your establishment. Many of them will make it a point to come back on that particular day.
More Frequent and Repeat Visits:
Since restaurant magicians are relatively unique, your guests visit will be more pleasurable and memorable. A good percentage of them will return to dine with their friends so they can see a magician.
Adds Prestige:
Intimate entertainment adds that certain touch of class to any restaurant atmosphere. Its not at all uncommon to hear guests comment "What a great idea!" or "They really thought of everything!"
Accommodations For Special Events:
Often times people dine out to celebrate special occasions such as birthdays, anniversaries, promotions etc. The house magician can extend personal greetings on your restaurants behalf in turn making your guests feel they were special on their special day. This almost guarantees word of mouth advertising that money could never buy.
Coverage for Unexpected Delays:
In the rare event that something goes wrong a food order is delayed in getting to the table, the magician can be sent to that table to buy a few minutes while the problem is being rectified. In almost every case, the guest will never even be aware of a delay in the kitchen.
Promotes a Family Environment:
With the exception of providing high chairs most restaurants have no accommodations for young children, therefore parents face a potentially tiresome situation in bringing children to a restaurant. This creates the risk of losing parents of young children as their clientele. The tableside magician is, once again, the perfect remedy for this situation. A little magic and some personal attention are sometimes all a youngster needs to feel like its his or her restaurant, too!