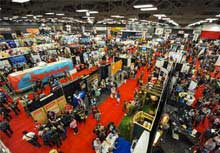 Want more sales leads?
* Alan has been producing leads for major companies at trade shows *
* He will deliver Your sales/marketing message *
* He helps you make a lasting impact *
* Power to engage and captivate delegates *
* Your Company benefits with quality leads and orders *
* Make your event dynamic and unforgettable *
Book Alan Watson trade show magician
1. Increased traffic:
Alan is a skilled trade show magician can attract a crowd and draw attention to your booth, increasing traffic and generating leads.
2. Memorable experience:
He can create a memorable experience for attendees by performing unique and engaging magic tricks that are tailored to your brand or message.
3. Brand awareness:
A trade show magician can incorporate your brand or product into their performance, increasing brand awareness and leaving a lasting impression on attendees.
4. Entertainment:
Alan can provide entertainment and create a fun atmosphere at your booth, which can make attendees more likely to stay and engage with your staff.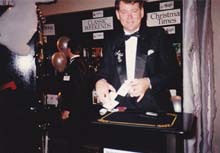 5. Message reinforcement:
He can use magicial entertainment to reinforce your key message or product benefits, making it more likely that attendees will remember your brand after the event.
6. Competitive advantage:
Hiring a trade show magician can give you a competitive advantage over other exhibitors who may not be providing any entertainment or unique experiences for attendees.
Overall, booking Alan Watson trade show magician can provide a range of benefits for exhibitors, including increased traffic, brand awareness, and message reinforcement, while also creating a fun and memorable experience for attendees.

** Telephone Alan NOW on 0274 95 7070 so you can discuss your own requirements so as he can tailor a performance to your particular needs. **