An immensely entertaining performance
* Corporate Functions *
* Conferences *
* Private Parties *
* Conferences *
* Restaurants *

** Telephone Alan NOW on 0274 95 7070 so you can discuss your own requirements so as he can tailor a performance to your particular needs. **
Book Alan Watson close-up magician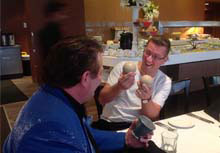 1. Entertainment:
Close-up magic is an amazing form of entertainment that can captivate and thrill audiences of all ages. Alan will perform right in front of your guests, creating a sense of intimacy and excitement.
2. Memorable Experience:
Having a him at your event can create a memorable experience for your guests. They will have something to talk about and remember for years to come.
3. Flexibility:
Close-up magicians are versatile and can perform in a variety of settings, from private parties to corporate events. They can perform for small groups or large crowds, making them a great option for events of all sizes.
4. Audience Engagement:
Close-up magic involves a high level of audience participation, making it an interactive and engaging form of entertainment. This helps to break the ice and create a fun and relaxed atmosphere at your event.
5. Customization:
Alan is willing to customize his performances to suit the specific needs and preferences of their clients. This means that you can work with the him to create a performance that is tailored to your event and audience.
Overall, booking Alan can add a touch of magic and excitement to your event, making it a memorable experience for all who attend.
By popular demand Alan & Michele will be returning to Wellingtons Restaurant at the Waipuna Hotel and Conference Centre, Panmure, Auckland and will be entertaining there from the 4, 11, 18 & 25th June 2023. Booking are essential.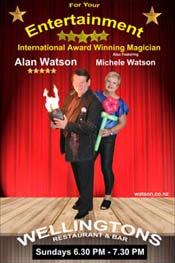 Advantages of Having Alan As A Restaurant Magician:
It gives you an edge over the competition:
It is difficult to determine exactly what makes someone choose one restaurant over another. It just might be that little something extra that tips the scales. The addition of a tableside magician ensures that many people will cast a favorable eye in your direction due to the amount of value they are getting for their discriminating dollar.
Increases Customer Traffic On Slower Days:
Through various forms of advertising, e.g. lobby cards (I provide), the media, word of mouth etc., your guests will learn of the magician performing in your establishment. Many of them will make it a point to come back on that particular day.
More Frequent and Repeat Visits:
Since restaurant magicians are relatively unique, your guests visit will be more pleasurable and memorable. A good percentage of them will return to dine with their friends so they can see a magician.
Adds Prestige:
Intimate entertainment adds that certain touch of class to any restaurant atmosphere. Its not at all uncommon to hear guests comment "What a great idea!" or "They really thought of everything!"
Accommodations For Special Events:
Often times people dine out to celebrate special occasions such as birthdays, anniversaries, promotions etc. The house magician can extend personal greetings on your restaurants behalf in turn making your guests feel they were special on their special day. This almost guarantees word of mouth advertising that money could never buy.
Coverage for Unexpected Delays:
In the rare event that something goes wrong a food order is delayed in getting to the table, the magician can be sent to that table to buy a few minutes while the problem is being rectified. In almost every case, the guest will never even be aware of a delay in the kitchen.
Promotes a Family Environment:
With the exception of providing high chairs most restaurants have no accommodations for young children, therefore parents face a potentially tiresome situation in bringing children to a restaurant. This creates the risk of losing parents of young children as their clientele. The tableside magician is, once again, the perfect remedy for this situation. A little magic and some personal attention are sometimes all a youngster needs to feel like its his or her restaurant, too!