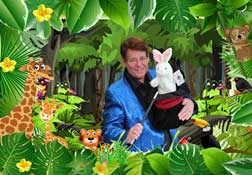 An ideal activity for pre-schoolers
* Gasps and smiles when the electronic rabbit appears *
* Lots of hilarious audience participation *
* Fun, fun, fun and laughter all the way *
* Great value for money and reasonably priced *

** Ring Alan NOW on Mobile 0274 95 7070 so you can discuss your requirements and he can tailor a pre-school show to your particular needs. **
Book Alan Watson pre-school magician
1. Entertainment: Alan can provide a fun and engaging form of entertainment that will keep the children interested and focused throughout his 30 minute magic show.

2. Educational Value: He can incorporate educational themes into their performance, such as teaching the children about colours, numbers, and shapes. This can help promote early learning and cognitive development in young children.

3. Socialication: A magician can create an interactive and social environment that encourages children to participate and engage with each other. This can help promote socialization skills and build friendships.

4. Creativity: A magician can inspire creativity in children by showing them that there are endless possibilities and solutions to problems. This can encourage children to think outside the box and use their imagination.

5. Confidence building: He can help build confidence in children by providing a safe and supportive environment for them to participate and perform in. This can help children overcome shyness and fear of public speaking.

6. Memorable Experience: Booking Alan can create a memorable experience for the children and their parents. The excitement and wonder of a magic show can leave a lasting impression and create fond memories for years to come.