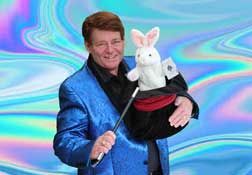 A Magical Birthday Party
* Have the best birthday party ever *
* Gasps and smiles when the electronic rabbit appears *
* Family magic which also involves the adults *
* Photos that will be cherished for a lifetime *

** Ring Alan NOW on Mobile 0274 95 7070 so you can discuss your requirements and he can tailor a birthday party to your particular needs. **
Hire Auckland Birthday Party Magician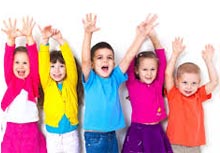 Hello, and thank you for considering my magic show for your child's upcoming birthday party!

My show is designed specifically for kids and is packed with fun, laughter, and excitement.

Here are a few reasons why my magic show is perfect for your child's special day: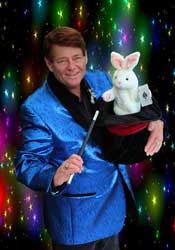 1. It's interactive: Kids love to participate, and my magic show is designed to get them involved. Whether it's helping me with a trick or just shouting out a magic word, they'll feel like they're a part of the show.

2. It's memorable: A magic show is a great way to create lasting memories for your child and their friends. They'll be talking about the show for weeks, and your child will feel like a superstar for having such a fun and exciting birthday party.

3. It's stress-free: As a professional magician, I handle everything from start to finish, so you can sit back, relax, and enjoy the party. I bring all the necessary equipment, set up and clean up, and keep the kids entertained for the entire duration of the show.

4. The birthday child is the *STAR* of the show and is made to feel very special in front of their peers.

So, if you're looking for a fun, educational, and memorable addition to your child's birthday party, I'd be honoured to perform my magic show for you. If you have any questions or would like to book a show, please let me know.


This might be of help - Party Checklist
One to three months before the party:
Set the date of the birthday party
Decide on the location and make reservations, if necessary
Create guest list (determine size of the party)
Set the party theme
Hire Alan Watson - professional childrens magician
Plan your activities
Plan your menu
Source your party supplies
Two to three weeks before the party:
Send your invitations (include directions)
Order cake
Purchase the party bag items and game prizes
Finalise your menu
One week before the party:
Order or gather together the chairs, tables, dishes, utensils, etc...
Make a final guest count. Make phone calls if necessary at this point
Plan for additional adult chaperones, if necessary
Place orders for food if needed
Confirm reservations (if applicable)
Confirm your gathering place is adequately prepared
Buy and wrap your gift for the birthday child
The day before the party:
Gift wrap any game prizes
Review the games/activities
Begin decorating
Pick up the cake
Prepare party bags
On the day:
Have camera ready
Stock toilets with plenty of paper, soap and towels
Have paper and pen handy to record who gave what gift
Have a big rubbish bag handy for torn wrapping paper
Secure your pets
Attach balloons on letter box
Have fun and enjoy the magical birthday