Alan and Michele Watson
New Zealand's **Star** Performers
Written by Richard Webster
Last updated 2/1/2023

See YouTube clip on professional magician Alan Watson QSM appearing on The Guy Cater Show (Face TV, Sky 083) being interviewed on his magical history.

Biography of Auckland magician Alan Watson QSM
In the past Alan and his wife Michele were without a doubt one of the busiest show business teams around the world. Back then on a typical day, the Watsons may have started at a children's birthday party, then entertained at a corporate function and he regularly finished his day performing close-up magic in a restaurant.

It is this versatility that provides the Watson family with a good living in New Zealand, a small market of only five million people. Alans consummate professionalism, coupled with a background in sales and marketing, has enabled him to break long established records, set new standards, and, in the process, generate valuable publicity. He is also an expert at the computer, and constantly keeps up with leading technology to give him a winning edge over his competitors.

For five years Alan was resident close-up magician at the renowned Fishermans Wharf restaurant, where he performed for an incredible 1,423 nights. This is a record for any New Zealand magician. Originally, he was booked for one week at Fishermans Wharf, but ended up performing there five nights a week for five years. For 26 years he was the resident magician for New Zealand largest theme park Rainbows End where he presented the Alan Watson family magic and illusion show. Alan deserves his success, because he works hard at every aspect of his magic business. I witnessed an example of this when I saw him performing his close-up act in a restaurant. At one table, all the diners were Japanese. This made no difference to Alan, because he was able to present his entire show in broken Japanese!


All this hard work pays off with lucrative bookings. In the 1992 - 1993 financial year Alan presented a staggering 1,005 shows, including close-up, childrens birthday parties, trade shows, strolling magic, and performances at shopping malls and corporate shows. Alan does not perform that number of shows a year these days, as he now specializes in more lucrative bookings.

Michele and Alan work well together. Michele is skilled and relaxed on stage, and is totally professional. She is an excellent assistant and a strong performer in her own right. The family prefers working together, but work singly when required. Many magicians wives dislike magic, but Michele loves every aspect of it, including keeping up to date with what is going on in the world of magic. Not long ago, I enjoyed dinner with Alan and Michele and a couple of overseas magicians. I was impressed at Micheles knowledge of magic, and was delighted to discover her passion for magical history.

Alan and Michele Watson were recognized internationally by the J. Marberger Stuart Foundation who presented them with the 2002 DRAGON Award before an audience of more than 1,400 magicians at the 100th year anniversary of the Society of American Magicians in New York. The DRAGON Award is presented in recognition of outstanding teamwork in the art of magic, and is the highest international award that has ever been presented to a New Zealand magician. The award was presented to Alan and Michele by the previous years winners, Paul and Debbie Daniels. The DRAGON Award name is an acronym for Drama, Romance, Artistry, Glamour, Originality and Necromancy. The winners have to demonstrate outstanding ability in each category.

In 1995, the legendary Magic Circle in England presented Alan with their highest degree of which he is most proud: Member of The Inner Magic Circle - M.I.M.C. with Gold star. One year later, Alan showed the New Zealand public why he deserved this award, when he performed in the close-up magic section in The Great Kiwi Magic Show on TV3.

Alan Watson has also been recognized by the entertainment industry in New Zealand. The Variety Artists Club of New Zealand presented Alan with New Zealands leading entertainment award, The Benny Award - a lifetime Achievement Award, in October 2006. Less than one week later, the magicians of New Zealand presented him with the Grand Master of Magic Award - The Supreme Award for excellence for a New Zealand magician. Alan has been recognized by the Variety Artists Club of New Zealand five times in the past: four times for being the top magician in New Zealand, and once because of his dedication, professionalism, achievements and excellence in the field of magic.

One of the highlights of Alans career came in 1987 when he was invited to perform at Hollywoods famous Magic Castle. Alan and Michele were the first close-up magicians from New Zealand to appear at the Magic Castle. With his typical marketing flair, Alan promoted New Zealand and its products, including Kiwifruit and Kiwi Lager, as part of his close- up routine.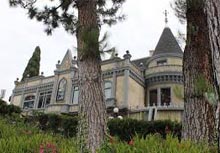 The late William Larsen, then President of the Castle wrote, He delighted our audiences with his unique technical skills. They are at once astonished and well pleased, a rare combination for any professional to master. His act is of the highest quality and he is one of the finest talents to appear at the Magic Castle in a long time. Alan and Michele visited the Magic Castle again in 2002, and have performed in both the Close-up Gallery and the Parlour of Prestidigitation.

Alan Watson has always believed in giving back to the magical community, and has a deep passion to promote New Zealand and New Zealand magicians. In 2015 Alan received a New Zealand Royal Honour "The Queen's Service Medal" (QSM) - For services as a magician. He is a Past-President of the New Zealand Society of Magicians and Ring 160 of the International Brotherhood of Magicians. He co-founded the MagicNZ bulletin board in the early 1990s, introducing New Zealand magicians to the Internet. Incidentally, this was the first magic bulletin board in the world to be connected to the Internet. Alan is possibly best-known to international magicians for his weekly Magic New Zealand e-zine, which is read each week by over 17.000+ magicians, in more than 78 countries.

Alan Watson is the International Deputy for the Society of American Magicians for New Zealand. He also acts as the New Zealand representative for The Magic Circle. Over the years, he has organised more than 100 lectures by international magicians to educate and benefit NZ magicians. In addition to all this, Alan has served on the committee for seven national New Zealand conventions, and at two of these, was responsible for publicity and marketing. Alan is one of the very few Kiwi magicians listed in the International Whos Who of Magic. In his limited free time, Alan works tirelessly to prevent exposure of magic tricks and methods.

Typically, Alans fondest memories relate not to his achievements, but to the times when he was able to help others. One special moment occurred some years ago when he was performing strolling magic at the Lynn Mall shopping centre. During the afternoon, Alan made balloon animals for a group of four special needs children and their caregivers. He made a teddy bear for the last child. When he asked her for her name, one of the caregivers said, Im sorry, she doesnt talk, shes autistic. Alan wrote the girls name on the teddy bears arm and then handed it to her. To everyones amazement the little girl said thank you. Alans eyes glisten as he recalls the moment. Everyone broke down, he told me. Even the caregivers cried with joy and one of them told me that it was the first time she had spoken. That was a truly magical moment that I will treasure always.

Alan and I have been friends for more than forty years now, and I have watched him progress from a part-time entertainer to an international performer who is recognised around the world. I am in awe of his talent, professionalism, business acumen and determination. I am not alone in this. The late J. Marberger Stuart, founder of the DRAGON Awards, considered the Watsons to be amongst the top magicians of the world. After seeing Alan performing at the Magic Castle, Mr Stuart was motivated to write the following letter:

Dear Alan
Congratulations on your marvellous success at the Magic Castle in Hollywood, California. My wife Marjorie and I thoroughly enjoyed your show, which we saw many times. We were especially delighted by the style and charm, which shone throughout your entire performance. As a judge of many magic competitions in the United States and Europe, including the most recent FISM, I have been privileged to see many fine magicians. I can honestly say that I consider you to rank among the top magicians in the world.

I envy the people of New Zealand who have an opportunity to see your world class magic on a regular basis. Please come to the United States more often. New Zealand should share its star performer with us all.

Best wishes for your continued success

Sincerely [signed] J Marberger Stuart

Unsolicited letters of this sort, and Alan has many more, demonstrate more convincingly than anything else that Alan Watson is New Zealands leading magician. The Magical Watson Family has done more than anyone else to promote New Zealand and New Zealand magicians internationally, and every Kiwi magician receives the benefit of this.

Over the years, the Magical Watson Family has performed before hundreds of celebrities. The list includes: Sir Edmund Hillary, Sir Robert Muldoon, Phyllis Diller, the Sheik of Bahrain, Taufa ahau Tupou IV (King of Tonga), Jackie Chan, Denzel Washington, Patrick Macnee, (John Steed of the Avengers), Raymond Burr (Perry Mason, Ironside), Sir Peter Blake, Whoopi Goldberg, Lynda Evans (of Dynasty), Dane Te Atairangikaahu (the Maori Queen), Elle McPherson, and numerous TV, radio and political personalities. We are fortunate that one of the worlds leading magical families chooses to live here. There cant be too many people in New Zealand who havent been entranced by this talented family. If you have not yet seen New Zealands favourite magicians - the Magical Watson Family - in performance, I guarantee you will be captivated by them too, just as soon as you see them live on stage.


Publication articles Alan has appeared in:
The Magic Circular [UK]
- August 2015 - Front cover - Pages 234-237
Vanish magazine
- April/May 2013 - Front cover - Pages 30-45
The Linking Ring
- November 2006 - Front cover - Pages 35-40 plus 68-70
The Linking Ring
- July 2004 - Front cover - Kiwi Magic pages 83-107
The Linking Ring
- November 1998 - Front cover - Kiwi Magic pages 87-105
M.U.M. magazine
- September 1997 - Watson family front cover - Kiwi Magic pages 15-25
Australian Magic Monthly
- November 1996 - Alan Watson featured on front cover with accompanying article
The Magic Circular [UK]
- December 1995 - Front cover - New Zealand special section pages 223-230 . Also in this edition Peter Blanchard wrote a double page spread on the Watson family 'This is your life' pages 234-235
Genii magazine [US]
- October 1992 - Front cover - New Zealand special issue for which Alan compiled pages 805-819
Other Publications:
Magicana Magazine [NZ]
- Four times on front cover